I have one corner in my
craftoom that has a comfy chair. In theory, I should be the one sitting there when I want to pour over craft books and magazines. It's become Penny's chair. She likes to keep me company when I'm in my special room.
If you are interested in getting a tour of my craft room, see
this
post.
While I was off on spring break last week, I found this pillow at my favorite antique/thrift store.
I fell in love with the blue birds.
It inspired me to attempt my own pillow.
I used a hankie, part of a pillow case, and a baby blanket that had a lovely bird stitched in the corner.
I don't own a sewing machine and it took me hours to hand stitch all the various layers. I told my mother she won't be allowed to inspect it. She was just proud that I even picked up a needle and thread and stuck with it.
Penny has been temporarily demoted to the end of the chair/footstool.
I don't think she really minds...
XOXO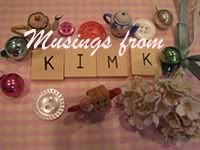 Random drawing to be held tonight at 7pm EST.